Turning The Studio into a film set.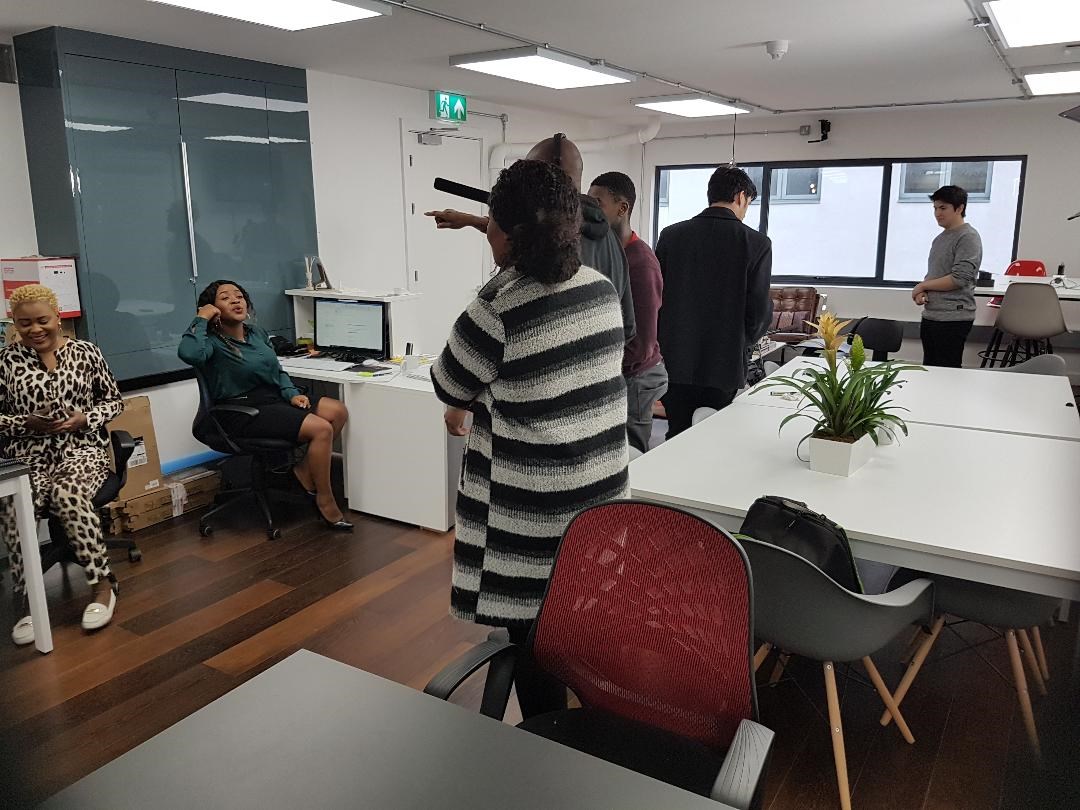 An actor prepares. Discussing details with the director prior to shooting a scene in the reception.
Quiet on set!
Saturday December 8th started very early for me. 5am to be presice. The Studio was being used as the setting for a TV drama about a news agency called 'Paperchase Media'. A brian child of Dorothy Diamond, working with Purfect Escape Media and Relative Motion Media.
I've always had a bit of a penchant for film making, I've even taken a couple of courses, so having a film shoot in the space was irresistible. As I understood the story in this episode, there has been a major PR cock up and now the company, Paperchase Media, have a crisis on their hands.
Lights, camera, action! Actually, it's, 'camera speed, action!' But no less thrilling...
Planning the next shot... in our kitchen. It's been a while since I was around a film shoot..actors rehearsing, shots being set up, retakes, lots of filming. Some of the actors had a part in a scene that was shot early, then had another scene to shoot later, and so, had to wait for the whole day. Poor souls. Such is the nature of show business
Hurry up and wait. There can be a lot of waiting on a film set for the actors. A chance to go over lines, catch a nap, just don't drink too much coffee before your scene, unless jittery is called for. It's an entirely different story for the crew, they are pretty much on the go all day, setting up shots, checking the lighting, sound, continuity, set changes, wardrobe, camera etc, etc, etc...Still, a busy day can make for a quicker one when you have no time to look at the clock. And if you love it, it's all good.
Details, details, details...A well organised film shoot is a very busy place to be. All of that activity condensing down into a series of moments, to hold the audience's attention and tell a story. Good planning is essential if you want to get it all done on the day and not have to come back because of something you forgot.
It was a long day, but fun and a great experience. We're definitely up for doing more.
Paperchase..
Andrew.