Mary Cinque's new mural at The Studio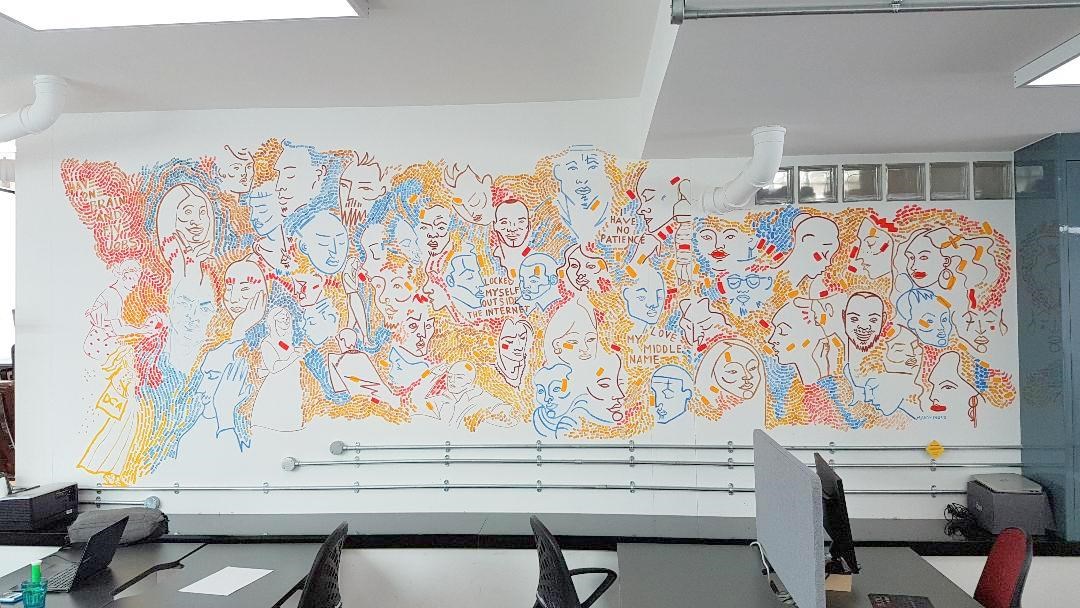 Have you ever seen your face painted on a wall? I have. Not just me, but quite a few faces of members who work out of here or people that have been here for a project, such as actors and crew from a film shoot that used The Studio for a location, have been immortalised. No, we haven't started a new cult. I'm talking about a newly completed mural by Italian artist Mary Cinque.
Mary's style for the mural could be called deceptively simple, something I've always had a fascination with. A style that can depicts a person, a dancing woman, a horse, a recognisable individual, or something else, with just a few lines. And that style works particularly well for this piece.
Feedback over the mural has been very positive, ranging from, 'It really brightens up the place', to, 'Wow!', and, 'Is that you?'. Suffice to say, we like it, and it does add a nice bit of colour to the place. And this is by no means all she does. Indeed, she has a wide range of approaches to her work.
Other paintings have a perspective view that is very much a part of the painting. You're not just looking at a picture of a building, you are standing in the street looking up at the building, and as such, are very much a part of that reality. Have you ever walked down a street of tall buildings or through a forest while looking up? I wouldn't recommend it for too long without watching where you're going, but the effect is surreal. Mary's work often captures a similar feeling.
Ever curious, possibly a mind set influenced by growing up in Italy and Ethiopia, and a good trait in an artist, Mary has experimented with water colour, digital drawing, wood carving, the study of graphic design and it's history, oil and acrylic, even enamel on baking paper. And through those mediums she manages to depict the everyday, human nature and history, from objects in our world to things that surround us in our world, in a way that makes it them seem anything but everyday.
A student of people, her 'people' series comes, sometimes, as uncomplicated line drawings, that are recognisable; at others times, to intimate moments of people going about their lives. Always in a way that draws you in.
If you'd like to now more about Mary and her work you can visit her web site (marycinque.it) or simple google her name and plenty of material will come up.
Andrew Edinburgh.