Personal Productivity workshop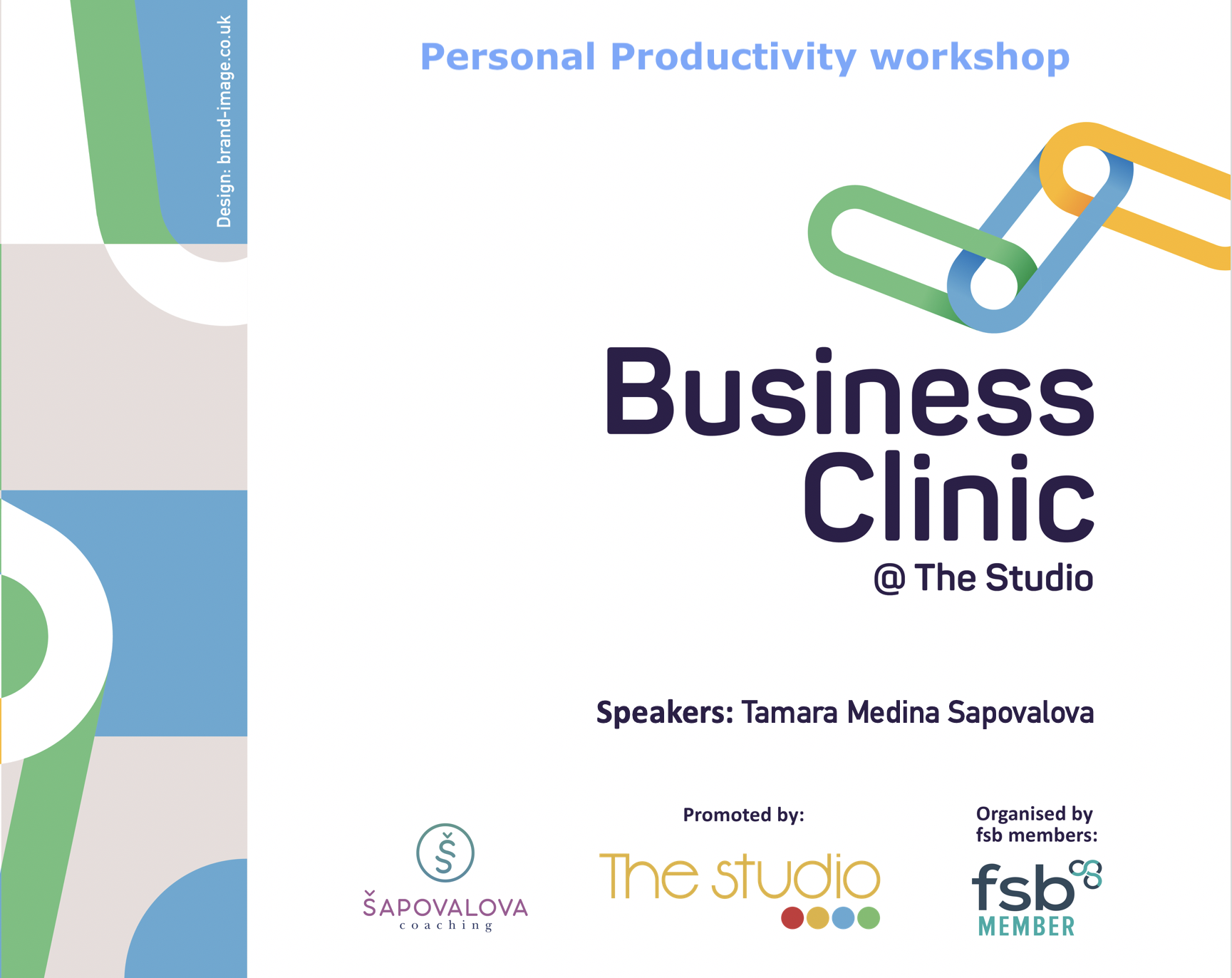 Personal Productivity workshop by Business Clinic @ The Studio
'What would happen if you could avoid some of the common mistakes when starting a business? And if you're already running your business would you want to refresh your knowledge and get some inspiration?
Come join us at Personal Productivity workshop part of the Business Building Blocks Programme at The Studio.
Learn how to:
Embed your personal values as a core part of your business
Build your business vision
Set inspiring goals and how to keep focused on what's important.
Use The Goal Cycle technique to keep you focused, motivated and on track
Register for the event
And don't forget…
80% of success is just showing up. :)
We look forward to seeing you there on 25th April at 18:00hrs.
Meet the expert
Tamara Medina Sapovalova has 10+ years international experience in providing Scaleup founders with a result driven leadership skill set to build high performance teams, creating a sustainable and healthy business culture. Working alongside fast growing start up companies based in the UK and Latin America
She is the founder of Sapovalova Coaching, associate partner of Latam Tech UK, member of Tech London Advocates and Co-leader for TLA LatAm, former Huffington Post Spanish blogger and author of '10 days, 10 actions, 10 times more productive' published in English and Spanish. She has written for various magazines and international publications. She has also been a judge in several technology competitions and she is the official Coach for Latam Edge and Brazil Tech Awards.
By the end of this Boot Camp you will get:
An understanding of what works and what doesn't regarding your business's branding and its presence on the internet;
Be able to comprehend the branding/internet "jargon" and act on it, so that you have the best outcome when working with your brand/digital strategy providers;
knowledge to deal with your challenges and take part in solving real-life cases in class;
Free consultation and actionable knowledge from experienced experts;
The opportunity to meet and speak with a representative of FSB
Who should attend?
Startups, Scaleups, Business owners and entrepreneurs seeking actionable knowledge on these areas
Startups and scaleups looking to stand out from the crowd, and gain leverage when looking for an investment or when it's time to market
Boot Camp Schedule
6:00 pm Networking
6:30 - 7:35pm: Welcoming and quick introduction
8:00 pm: Networking
8:30 pm: End
If you have questions please contact us at [email protected]